Marcus L. Leathers, D.Min.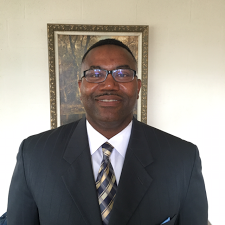 Raised in Rocky Mount, NC, with his two siblings, Marcus is the eldest son of Levon and Carolyn Leathers. Marcus was born and raised in the poorest county in the state of North Carolina, yet; the loving home and church family that supported him all but shielded him from that harsh reality. There is no greater gift than the simple truth of one's identity and loving encouragement to become someone greater.
Regarding his formal education, Marcus received the Doctor of Ministry degree in Art and Theology on May 11, 2009, from Wesley Theological Seminary. He earned his Master of Divinity from LTS in 1993 and holds B.A. in Chemistry from North Carolina State University in 1990. He and his wife, Tammi, are parents of two wonderful children, Madison and Maxwell.
Marcus had served seventeen years as pastor of Shepherd Park Christian Church, until his departure from pastoral ministry at the end of 2016. Marcus also serves the Christian Church (Disciples of Christ) as a Core Organizer and Trainer for its Reconciliation Initiative, "Many Members One Table." From 1993-'96. while serving Midway Church of Christ in North Tazewell, Virginia, Marcus wrote a review of "The Recovery of Black Presence: An Interdisciplinary Exploration" for the Lexington Quarterly. During his tenure as the Assistant to the Pastor at Michigan Park Christian Church of Washington, DC, Marcus contributed to the well- received publication, "African American Heritage Hymnal."
Marcus has stated that a significant amount of his pastoral office has been devoted to interpreting the reasons and reservations which create "wars of Worship."
"One of the many reasons that I have enjoyed serving the Pastoral ministry at Shepherd Park Christian Church (SPCC) is its commitment to authentic worship. I use the word authentic because it describes humility and truth. SPCC offers God's people worship that is grounded in biblical theology. This is one of the reasons that our congregation has survived the tests of time since 1899.

One of our members at SPCC articulated this 'authenticity' so well one Sunday morning. He said, '…as Christ's Disciples, we must work with due diligence and great spirit to enlighten, encourage and inspire! We must inform in order to assure that God's people do not simply inherit the wind!'

As a pastor, I recognize that worship has a responsibility to inspire us to act. I certainly hope that the outcomes of our actions have the impact of positive and creative change in our community. This change may exist as either qualitative and quantitative: both can be measured in terms of the condition of peoples' lives as a result of the church's position in their community."
Rev. Dr. Marcus Leathers was installed as Co-Pastor of United Christian Parish, Reston, Virginia on September 16, 2018.