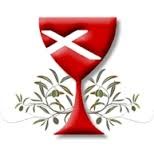 Easter, or Resurrection Sunday, is a holy day celebrating the resurrection of Jesus from the dead, described in the New Testament as having occurred on the third day of his burial after his crucifixion by the Romans at Calvary circa 30 AD. It is the culmination of the week before Easter, known as "Holy Week," which includes Maundy Thursday, commemorating the Maundy and Last Supper, as well as Good Friday, commemorating the crucifixion and death of Jesus, and is preceded by Lent, a forty-day period of fasting, prayer, and penance.
The resurrection of Jesus is a foundation of the Christian faith, establishing Jesus as the powerful Son of God. Through faith in the working of God, those who follow Jesus are spiritually resurrected with him so that they may walk in a new way of life and receive eternal salvation.
Join us for our hybrid Worship Service, both in-person and online, on Sunday, April 9th at 11:30am.